Our Favorite St Patricks Day Cocktail Recipes!
My favorite holiday is here! St. Paddy's Day is known for being a big drinking day, even for non drinkers. I've been scoping the web and came across a few of my favorite drinks to enjoy. I even found some an awesome non-alcoholic St Patricks Day Cocktail for our non-spirit drinkers.
Mint Mocha Spiked Coffee
(created by Pam Wiznitzer, Seamstress)
Ingredients:
1 1/2 oz Kerrygold Irish Cream or Baileys
1 oz Branca Menta
3 oz cold coffee
---
The Lambay Whiskey Sour
Ingredients:
50ml Lambay Whiskey
25ml Fresh Lemon
15ml Sugar Syrup
15ml Egg White
Orange Bitters
Method: Dry Shake all ingredients without ice first. Add ice and shake all ingredients again into an ice filled rocks glass. Garnish with edible flowers.
---
Sexton Barista Old-Fashioned
Ingredients:
2 oz The Sexton Single Malt Irish Whiskey
1/2 oz Coffee Liqueur
2 Dashes Angostura bitters
Maple Wood chips
Method: Combine ingredients in a mixing glass. Add ice and stir until cold. Strain into a double Old-Fashioned glass over fresh ice. Garnish with orange peel. With a smoking gun, smoke the cocktail with maple wood chips. (Don't smoke the glass too much).
---
The Teeling Whiskey Irish Coffee
Ingredients:
1 1⁄2 oz Teeling Small Batch
4oz Freshly Brewed, Robust Coee
1⁄2 oz Spiced Stout Syrup (see below)
Orange Zested Cream
Garnish: Freshly Grated Nutmeg
Method: Preheat glass with some warm water and discard, add the Teeling Whiskey, stout syrup, brewed coffee and stir to combine. Warm a large spoon and gently pour the cream over the back of the spoon and onto the coffee.
---

Erin's Favorite St Patricks Day Cocktail
The Sophisticated Shamrock
Ingredients:
2 oz Reyka Vodka
½ oz Dolin blanc
1 oz cucumber juice
¼ oz lime juice
¼ oz Wasabi simple
Method: Combine all ingredients into a cocktail shaker. Shake, strain, and serve in a coupe glass. Garnish with cucumber ribbon and orchid.
For Wasabi Simple:  1 oz wasabi powder by volume to 8 oz of simple.
---
Good Cork Variation 
Based on a drink by Phil Ward of Mayahuel NYC, created by Katie M. Loeb, Philadelphia
Ingredients:
1 oz Spade and Bushel Irish Whiskey
1 oz Vida Mezcal
1/2 oz B&B
1/2 oz Bärenjager
3 dashes Peychaud bitters
Orange twist
Method: Stir over ice. Strain into ice filled rocks glass. Express orange twist and drop into drink.
---
Bonnie Prince
Created by Cliff Mejia of Bathtub Gin, NYC
Ingredients:
2 oz Tullamore Dew Irish Whiskey
1 oz Dambuie
1/2 oz Lustau Amontillado Sherry
1/2 oz Apricot Eau de Vie
3 Dashes of Absinthe
3 Dashes of Orange Bitters
Method: Stir ingredients and serve in a coupe glass with a lemon twist.
---
Pot o' Gold Shots
INGREDIENTS
1 package lemon or pineapple jell-o
1 1/2 c. Water, Divided
1/2 c. cold Jameson whiskey
1 container Cool Whip (8 oz.)
Gold sprinkles, for garnish
16 rainbow candy belts, each about 1" long
DIRECTIONS
Bring 1 cup water to a boil. Add Jell-o mix, stirring until dissolved. Turn off heat and stir in remaining water and whiskey, then pour mixture into plastic shot glasses, filling each one two-thirds of the way up. Refrigerate until set, 1 hour.
Top with a dollop of Cool Whip or whipped cream. Add gold sprinkles and top with a 1″-long rainbow candy belt, forming it into a semi-circle, like a rainbow. Serve.
---
The Nutty Irishman
INGREDIENTS
1 ounce Frangelico
1 ounce Bailey's Irish Cream
1 ounce Kahlua
5 ounces hot coffee
Whipped Cream
Sprinkles
DIRECTIONS
Pour the Frangelico, Bailey's and Kahlua into a coffee mug and stir. Pour the coffee into the mug and top with whipped cream. Decorate with sprinkles, if desired.
---
Boozy Shamrock Shake
INGREDIENTS
2 Cups vanilla ice cream (Sub coconut milk ice cream for a vegan option!)
1/3 cup whole milk (Sub full-fat coconut milk in a can for a vegan option!)
4 Tablespoons 101 proof peppermint schnapps
green gel food coloring
whipped cream (Sub coconut whipped cream for a vegan option!)
decorative sprinkles
DIRECTIONS
Allow ice cream to soften on the counter for 20-30 minutes
Place ice cream, milk, schnapps, and green food coloring in a blender
Blend until smooth and creamy
Pour into one large glass or divide into 2 small glasses
Top with whipped cream and sprinkles
Serve with your favorite St Paddy's Day straw!
---
Non-alcoholic St Patricks Day Cocktail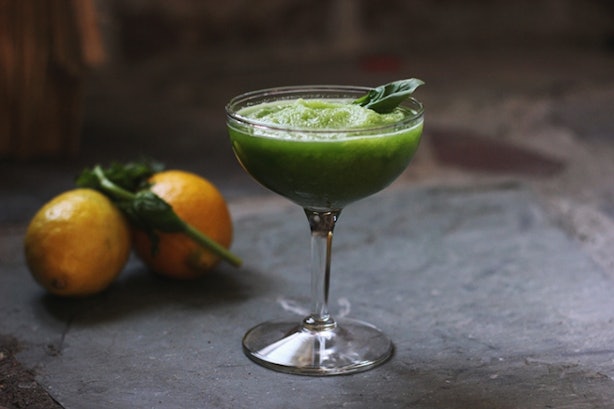 Non-alcoholic Lemon Basil Daiquiri
INGREDIENTS
4 basil leaves
Juice of 1 large lemon
1 tbsp sugar
1 tbsp water
Ice
DIRECTIONS
Combine all ingredients in a powerful blender and blend until smooth.
---
Non-alcoholic Mint Julep
INGREDIENTS
2 tbsp mint simple syrup (see below)
Juice of 2 large lemons (Or you can substitute in some lemon-lime soda)
Ice
Sparkling mineral water
DIRECTIONS
To make the mint syrup, combine 1 cup water, 1 cup sugar, 4-6 sprigs of mint in a saucepan over medium heat. Bring to a boil, or until sugar is completely dissolved, stirring occasionally. Remove from the heat and let infuse for 10 minutes. Strain out mint and transfer liquid into a jar and let it cool completely.
Combine mint syrup and lemon juice in glass, fill the glass 3/4 full with ice and top off with sparkling mineral water. Garnish with mint leaves and sugar rim.
---
Non-alcoholic Ginger Lime Spritzer
Ingredients
Simple Syrup
6 oz. ginger, peeled and sliced into coins
1 cup water
1 cup sugar
½ cup lime juice
For the spritzer
Ginger-Lime Simple Syrup
Seltzer water
Instructions
In a small saucepan, combine the ginger, water and sugar. Bring to a boil, reduce heat and cook until the sugar is dissolved. Remove from heat and add the lime juice. Allow to sit for 30 minutes to allow the flavors to steep and combine. Strain the mixture, discarding the ginger. Refrigerate until cold.
When ready to make the drinks: Add 2-3 tablespoons of the simple syrup to every 8 oz of seltzer water. Serve cold with additional lime slices, if desired.
---
Sources: BevMedia, Delish.com, Suburban Soap Box, Cooking with Curls, The Merry Thought, Taste and Tell Blog
This collection does not portray any original recipes. All material is copywritten to the original creators in links above.
Follow us on Facebook & Twitter for more St Patricks Day Cocktail!